Active Rehab
---
Chiropractic Care for Active Rehab & Lifestyle Support
Understanding The Injury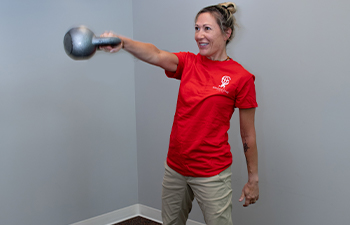 When you become injured while playing sports or other athletic type injuries, you probably rest up, ice the injury, and hope that it will go away in time. While this approach does reduce the inflammation associated with the injury, it does not address the underlying cause of injury. As a result, you may have lingering soreness and stiffness and your injury will take longer to heal than if you treated it in full originally.
A Chiropractic Doctor can reduce the risk of re-injury or the aggravations of old injuries, reduce your inflammation and pain, and improve the injury healing times. Alcoa Chiropractic Center also offers lifestyle advice that can help you stay injury free while practicing the sports or activities that you love like tennis, golf, and cycling.
If you are looking for a gentle, non-invasive and holistic healing option, chiropractic care will help heal your injuries thoroughly and return your body to a natural alignment that will prevent future injuries. Chiropractic care of injuries typically requires several treatment sessions over the course of multiple weeks; however, many of our patients state that they feel better even after just one treatment.
You can heal from your injuries without the use of painkillers or the need to resort to surgery. Better still, you will enjoy a full range of motion, decreased soreness and stiffness, and improved nervous and immune system health once treatments begin.
Injuries We Treat
Alcoa Chiropractic Center specializing in and treats a full range of sports and lifestyle injuries. We commonly see people who have been injured while running, cycling, playing tennis, playing golf, or playing football. We have experience treating tennis elbow, golfer's elbow, tendonitis, carpal tunnel syndrome, runner's knee, shoulder injuries, shin splints, back pain, neck pain, and much more we even care for collage and pro athletes.
How Alcoa Chiropractic Can Help
Alcoa Chiropractic will perform a full examination and check the alignment in your spine. Misalignment of the spinal vertebrae from the impact of your sports and other lifestyle injuries can cause muscle strains, chronic pain, and increased tension in other parts of your body.
We then perform gentle adjustments to realign spinal vertebrae and reduce your pain. We can also perform complementary therapies, like hot and cold therapy or massage.
Once you are on the road to recovery, our staff will demonstrate stretching and strengthening exercises that can increase your range of motion and strength in the affected muscles. This will keep your body in good shape and can prevent injuries going forward.
Don't wait. If you or someone you care about needs chiropractic Care, Call 865 984-2001 and schedule an exam today. Once you learn more about the value of chiropractic care, we believe you will want to make it a part of your overall health and wellness program.